Patrick Crowder
What's your dream job? It's a question asked of most everyone, and often from a very young age. An individual's goals and aspirations often change over time, so it is always important to keep one's mind and options open. However, if you have a dream, there is nothing stopping you from finding out if it's truly the right choice for you. A study from Remitly, which provides financial services for immigrants, has revealed the jobs held in highest regard by people around the world. With almost 1 million Google searches per year, becoming a pilot is the world's top dream job.
In most English-speaking countries, the top listed dream career is to become a pilot. By analysing Google search data, Remitly found that people in the UK, the US, Canada, Ireland and Australia are most curious about the difficult, rewarding, and highly regarded professions in the aviation sector. 20 additional countries are also interested in taking to the sky, including Cyprus, Moldova, Papua New Guinea, and Montenegro. High pay and frequent travel are likely factors driving this interest, not to mention the fact that pilots often receive generous pensions and benefits.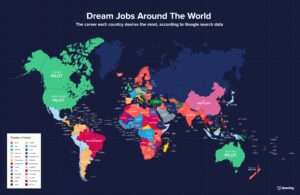 Image from Remitly
The second most desired job worldwide is that of a writer. In general, a career in the arts is a popular dream job choice, with dancing and acting also ranking highly on the list. All of the Nordic countries show the most interest in writing for a living, as do Estonia, Latvia, and Lithuania. India, Pakistan, Myanmar, Bhutan, and Bangladesh all list writing as their top dream job, and a number of African countries including Kenya, Tanzania, and South Africa did the same. The freedom which a career in writing offers is unparalleled as it is often a career which can be built from home. Following the pandemic, we have seen an increased emphasis on job enjoyment, flexibility, and creativity, and a career in writing holds the unique position of offering all three.
In addition to the more traditional creative careers, the new-age offerings of youtuber, influencer, and programmer were also represented. Mexico, Peru, Bolivia, Uruguay, and Chile place YouTube as their top dream career choice, as do Slovakia, Indonesia, and the Czech Republic. Columbia, Venezuela, Argentina, and the Dominican Republic are among the countries who chose the more general career of influencer, reflecting the growing number of non-YouTube platforms rising to prominence, including Twitch and TikTok.
Jago McKenzie, Business Management Director at Remitly, says that the trends reflected by the study are consistent with his expectations.
"People are getting used to the idea of changing careers at least once in their lifetime as the flexibility to work online and retrain increases. Some of the main reasons people seek a career move are for better work-life balance, higher pay and a more meaningful and fulfilling career. With that in mind, I wasn't surprised to see so many people around the world showing clear search intent for a change," McKenzie says, "We can see a huge range of different professions featuring prominently, including many that can be done solely online, from anywhere in the world. It's clear that our desire for travel and exploration has not been dimmed by the past couple of years and, despite it being a tough time for the aviation industry, becoming a pilot remains a much sought-after lifestyle."
Whatever your dream may be, all is achievable with the right amount of dedication and tenacity. Of course, having a network of people to help you along the way is also a major boon to success, so always be on the lookout for mentors. Finito World wishes you the best of luck on your journey.