The much-loved Conservative MP discussed the issues facing education in the country covering everything from the legacy of Covid to the skills deficit
Finito friends and mentors were treated to breakfast at the East India Club and a morning talk by Conservative MP for Harlow, Robert Halfon. As the current Chair of the Education Select Committee, Halfon is always in a perfect position to discuss the best way to help young people looking forward. He has so far used his role to promote the importance of apprenticeships, and has often had some frank criticisms of Russell Group universities.
The finely decorated room made a suitable place for discussion, with its intricate moulding which frames ceiling and floor, and historic portraits dating back to the club's foundation in 1849. Those in attendance included Finito CEO Ronel Lehmann, Baron Gold of Westcliff-on-Sea, Myles Stacey, the Special Advisor to the Prime Minister, Professor of Social Mobility at Exeter University Lee Elliot-Major, Chair of Capital Economics Roger Bootle, and numerous other high-profile business and thought leaders.
Amidst a turbulent time for national politics, Halfon  accepted the gravity of the cost of living crisis affecting so many across the country. "One of the reasons why there's so much anger is because of the cost of living," Halfon explained. "The Chancellor of the Exchequer [at the time of the event the position was held by Rishi Sunak] has just spent £37 billion in terms of energy rebates and is providing up to £1,200 to 8 million vulnerable families. But the fact is people are struggling to  afford to pay £2000 to £3000 on energy, even with the rebates. They can't afford to drive to work. And that is the reality for millions of our countrymen and women.
Halfon was speaking not just as Chair of the Education Select Committee, but also as the popular MP for Harlow, and he repeatedly turned the conversation back to the issues facing his constituents. Though Halfon has often been tipped for frontline politics, and has launched numerous successful campaigns during his time in Westminster, the prevailing sense was of a man who has never forgotten the constituents and their concerns.
Halfon continued: "The second issue we face is that there is a view that government isn't working. I mean you try to get a GP appointment, it's virtually impossible. You try and get a passport. A constituent of mine paid £150 for a fast-track passport. They were told on the day before that they couldn't get it, and they were told to refresh the website all the time as if they were trying to book an Ed Sheeran concert."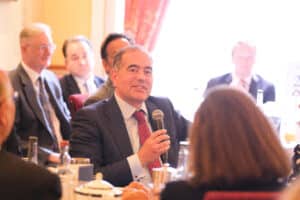 Halfon spoke here not so much as a critic of the government but as a supportive voice who realises that all administrations are incomplete and that there is always more to do to support people who need that help. It was in this spirit that he raised an issue which has been close to his heart throughout his parliamentary career: "The fourth and final thing is social justice. Now I'm a conservative, I believe in the free market – and, of course, I believe in capitalism. But we haven't mentioned the term 'social justice' as a party for quite a long time."
Again, Halfon's remarks were measured and he took the opportunity to give balance to his remarks: "The government does some very important things, most of which the public don't know about, such as individual measures to help with domestic violence and to help troubled families – but we need to put forward a coherent narrative."
Halfon argued that a major part of the social justice issue begins with education, and he continues to argue that Covid has damaged education at all levels greatly. He spoke movingly too about the role of chairing the Education Select Committee, one which he obviously relishes. "This is the best job I've ever had because I am privileged to hold a platform where I can effect real change for our children ," he explained.
So what does he think needs to happen to ensure our young people are work-ready when the time comes? "We have three problems facing our education system. We've got the COVID deficit. I was passionately against school closures, and I campaigned against them from the beginning, day and night. I thought that it would destroy our children's life chances, their mental health, their educational attainment, and create safeguarding hazards and that's exactly what's happened."
Halfon is an important voice partly because he has such integrity: he is always a considered and passionate voice. He continued: "And with the social justice deficit, disadvantaged groups are just not doing well in the education system, and we have this perennial problem of education-based skills deficits. To be fair to the government, they have been doing a lot of good things in terms of the lifetime skills guarantee, the reforms to the Covid Catch-Up programme (based upon the Education Committee's report), but I think we need a real debate on our national curriculum and whether it is fit for purpose in preparing students for the future world of work and the fourth industrial revolution."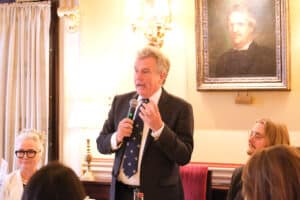 So what do we need to do? Halfon was clear: "It's all about knowledge, knowledge, knowledge, and it should be about knowledge and skills. Why don't we have a wider curriculum where we do a mixture of skills, knowledge, vocational and technical education all the way through, rather than just having the dividing line that we do at the moment? We're doing an inquiry on that. So the Covid deficit, the skills deficit, and the social justice deficit. I would argue that those are real challenges facing education."
There followed a lively and passionate Q&A. Neil Carmichael, who sits on the Finito advisory board, and previously held Halfon's post, congratulated his successor on the work he is doing as Chair of the Education Select Committee. Carmichael agreed that the issues set out by Halfon all exist but questioned why economic productivity was left off the list.
Halfon responded: "The productivity answer for me is skills. And my first ever speech was about apprenticeships in the House of Commons in 2010. We need to do more – there are nine million adults in our country who are innumerate or illiterate. I mean, that is incredible. 6 million adults are not even qualified to level two. I do believe in the new Post-16 and Skills Act that has just passed, but we must change our curriculum, promote skills, and get more young people doing apprenticeships."
There was an audible intake of breath when Sarah Findlay-Cobb, the CEO of the Landau Forte Academy, mentioned that her heatings bills for her schools had rocketed from £150,000 to over £1 million in the past year. It was a vivid indicator of the seriousness of the cost of living crisis and Halfon movingly expressed his sympathies.
This was a remarkable event which showed what can be achieved by a good-hearted man in Westminster. As Myles Stacey returned to Downing Street for his daily meeting with the then Prime Minister Boris Johnson he had much to relay.
Read MP Robert Halfon's take on poetry in the national curriculum here