Ronel Lehmann
Planning to visit a restaurant is a bit like being on a conveyor belt. Firstly, you phone to make a reservation. Bubula, known for its middle eastern feasts doesn't have a phone number for bookings. So, you then resort to sending an email, which results in an out of office reply and then you decide to take your chance for a walk-in table. It seems that everyone else did the same, and the next table was not going to be free for 90 minutes. We were patient but not as patient as the welcome and decided to continue up Great Titchfield Street to that famous trattoria, Sergio's. Despite a warmer welcome than Bubula, they too were fully booked. And so, we stumbled into Meraki. Meraki is a name that indicates a gift of gab – the ability to persuade others effortlessly.
The good news was that they had a table. The unwelcome news was that we had to endure being told that we had only ninety minutes to enjoy dinner. Then there was passport control. Our name and telephone number were requested so presumably they could capture all our details and market their restaurant to us in future. Or perhaps it was in case there was a fire in the kitchen, and they needed to be sure that we were accounted for during an exit.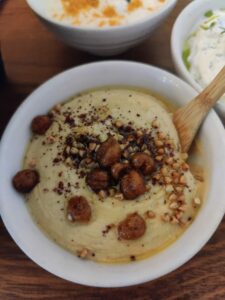 Seated at a table for two, the menus arrived. I dispensed with these, saying that the menu needed explaining to us: fortunately the waiter turned out to be more than proficient and courteous. I was still smarting from being cross-examined by reception. Tap water was provided, my guest had a cranberry juice, and I ordered an ice cold Keo, from Cyprus. I always like a light straw-coloured lager and this was no exception.
The last time we booked a Greek restaurant in Camden, I booked Alexander The Great. It was during the meal I looked out the window to my left and saw the fluorescent sign. We had sat down in Andromeda which was directly opposite and found ourselves in the middle of the meal before noticing. I then had to telephone Alexander The Great from a Greek restaurant opposite to apologise that we were not going to make it. You will appreciate I did not want to look out of the window of Meraki in case border control was searching for me.
It was time to order. I never like to dwell too much over the menus and don't like drinking on an empty stomach. Quick choices were made including Aubergine Melitzanosalata, smoked aubergine. parsley, florina pepper; a bread basket containing pita, ladopita, focaccia, sourdough, olive; Mykonian Salad, tomato, 'kritamo', cucumber, olive, feta; Taramasalata, white cod roe emulsion, smoked herring caviar, bottarga; Tzatziki, Greek yogurt, garlic, mint, courgette; Hummus, Crispy chickpea, toasted buckwheat seed; before we drew breath. I myself don't particularly like Taramasalata, however, this tasted unlike any that I have tried before.
The waiter returned and after topping up our drinks, invited us to try the chicken and lamb kebabs. Two small skewers arrived for each, the chicken was so tender, beautifully marinated with basil and yoghurt. The lamb was served with florina pepper, hummus, parsley. We could have gone on with another round but saved some space for pudding.
We shared a plate of Saragli, rolled baklava, caramelised nuts and vanilla ice cream.
On the way out, I remarked to my guest whether we could remember the names of the twelve Greek Gods. They are of course, Zeus, Poseidon, Hera, Hestia, Demeter, Hades, Apollo, Artemis, Hermes, Athena, Hephaestus, Aphrodite and Ares.
Meraki is right up there.
Ronel Lehmann is Chief Executive of Finito Education