Patrick Crowder
Middlethorpe Hall is a late-17th century country house with 20 acres of parks and gardens just two miles from the centre of York. Built under the reign of William III, Middlethorpe has an exceptionally classic style, and it holds the status of being the only country house hotel in York. As a National Trust property, conservation is at the forefront, so the rooms and gardens are presented with history in mind. The fine folks at Middlethorpe extended a very gracious invitation to both my girlfriend Martyna and I, so we took the train to York for the weekend to check it out.
Martyna is a high-toned woman with knowledge of the finer things, but this Californian's experience with elite hotels amounts to a few visits to the Ritz Carlton in Chicago with my parents as a pre-teen. Nonetheless, we felt no need to put on any airs at Middlethorpe, as there was not a hint of snobbery, so we were free to be our own relaxed selves.
We had the chance to speak with Lionel Chatard, who has been the Director and General Manager at Middlethorpe for over 18 years. He greeted us kindly when we arrived, accompanied by his friendly brown and white cat. He explains that Middlethorpe has worn a variety of hats throughout its 322 years, and how managing the property brings unique opportunities and challenges.
"Middlethorpe is rather unique in the fact that it is the only country house hotel in York, rescued in the 1980s from when it was a night club with overgrown or non-existent gardens. This Grade II William and Mary house was totally restored to the highest standard reflecting its noble heritage, and the gardens and parkland brought back to bring pleasure to all who wander through them or look out over them," Chatard says, "The hotel is secluded in 20 acres of manicured gardens and parkland and offers luxury facilities including a boutique spa and a fine dining restaurant. I am proud of my team who make every guest's experience unique. Also, working at a hotel which was donated to the National Trust is very unique! The motivation for the donation is to ensure that the houses and their land are kept safe forever, protected from inappropriate development, and continue to be maintained to their present high standards."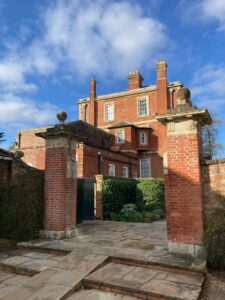 The historic accommodations at Middlethorpe
Our accommodation was not so much a room but the entire ground floor of a house, and when we arrived we were stunned by the care taken in its presentation. A bowl of fresh fruit (which contained the best pear I've had to date) was set out on an antique coffee table, alongside a selection of meringues. The bedroom and sitting room were both filled with interesting historical paintings, books, and artifacts, including a candleholder crafted from teak taken from the H.M.S. Terrible which served in the Second Boer War. While the furnishings were antique, the bathroom and kitchen had comfortable, modern fixtures, meaning that we wouldn't be sacrificing water pressure in the name of historical accuracy on this trip.
In the daytime we strolled around the historic gardens, and we were perplexed by a small cliff in the middle of the massive lawn! We learned that the sitting area, invisible from the main house, is called a "ha-ha", which was a popular feature in 18th century gardens. We walked towards the walled garden, passing trees transplanted from all over the world, including a Red Oak, Turkey Oak, and a Cedar al Lebanon, until we came across the beautiful Dovecote. The structure has existed on the site since 1681, and now, bereft of doves, is used as a wine cellar.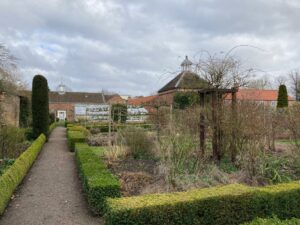 The gardens at Middlethorpe, with Dovecote in background
The gardens have been maintained meticulously, and as Chatard explains, it all comes down to the National Trust's commitment to conservation.
"The three Historic House Hotels; Bodysgallen Hall & Spa in North Wales, Hartwell House in Buckinghamshire, and Middlethorpe were donated to the National Trust in 2008, with all profits benefiting the charity," Chatard says, "It is a matter of pride and joy to my fellow Directors and I, to know that we are making a useful contribution to support this formidable charity. It also means that as well as ensuring we run a profitable and successful business as hoteliers, our responsibilities are wider and also involve, to a certain degree, conservation and gardening. The gardens at the three hotels, as the other National Trust parks and gardens, are managed according to a long-term plan for their conservation, taking into account all their history, influences, qualities and contents, together with constraints that affect them."
One thing that Martyna and I noticed about the property and its stewards is the incredible attention paid to ensuring that guests have their needs met and, in the case of the slight misunderstanding I am about to recount, anticipated. Approaching the grand front of Middlethorpe, we decided to break out the camera for posterity's sake. Being fans of Kubrick, we decided to take a few portraits with the camera pointing upwards at the subject, with the magnificent eagle-topped roof of the hall in the background. When we went back inside, the man at the door had called for a bottle of the finest champagne – when I got down on one knee for the picture he had seen it as a marriage proposal, and had prepared accordingly! We laughed about the misunderstanding, only half-joked that we would return for the wedding, and left extremely impressed by his skills of observation.
The care taken to ensure our comfort did not stop there. When it came time for dinner, we were treated to a three-course meal with a choice of meat, fish, or vegetable for the first two courses, and dessert or cheese for the final course. Martyna, as she will herself admit, is very difficult to cook for due to her many allergies. I would list them here, but this article has to fit on the page you're reading… you get the picture. Head Chef Ashley Binder had no trouble navigating the culinary minefield that is the woman I love, quickly crafting items with ingredients which were not even on the menu. This was no matter of lazy substitution, these were whole new dishes, created on the fly, for just one of many guests. The food was expertly made and a joy to eat, and we left very satisfied.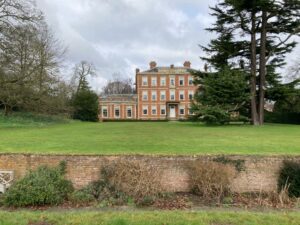 A view of Middlethorpe showing the ha-ha
Floored by the service provided, I asked Chatard how he maintains such a high standard at Middlethorpe.
"I believe I am very lucky to lead a team of committed and passionate individuals, who take pride in their work and really enjoy looking after guests; we all work as one team, and always support each other," Chatard says, "Good and clear communication and staff training are key to a successful business. We truly value comments from our guests and discuss them constructively with the team for further improvements where necessary. Mystery 'inspections' are also helpful to ensure consistency of standards."
Middlethorpe offers a luxurious spa, which sports modern accommodations while maintaining an old-world feel. The large pool provides a place to soak off a day walking around the city, while the sauna and steam room give guests a chance to cleanse themselves of the thick London air. They also offer a variety of spa treatments in private rooms, which focus on skincare, health, and beauty therapy.
Before we knew it, our stay had come to an end, but we took with us a feeling of rejuvenation and calm unrivalled by other holidays we had taken in the past. I highly recommend Middlethorpe to anyone looking to get away from the daily stressors so many of us face. After the last two years, we could all use a bit of pampering, and Middlethorpe Hall is just the place.