Patrick Crowder
Finca Cortesin is nestled in the hills of the Andalusian coast, a bastion of luxury on a 215-acre estate. The estate boasts six top-tier restaurants, four swimming pools, full spa facilities, a fitness and racquet club, and a world class 18-hole golf course. It doesn't end there. As you might expect from an Andalusian resort, the weather is impeccable, and guests are invited to enjoy the crystal-clear Mediterranean Sea at the Finca Cortesin Beach Club, which is situated just under a mile from the hotel.
In other words it's paradise – but unlike so many other versions of the ideal, it's paradise within easy reach. Travel to the resort is simple. The two best options for those coming from abroad are to fly into either the Malaga or Gibraltar airports, which are a 50 or 15 minute car journey away, respectively. We chose Malaga, and a chauffeur from the resort was there to pick us up, peppering us with facts about the area.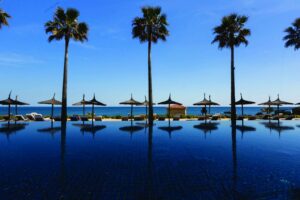 The economic news from Andalusia – and from Spain generally – is reliably mixed. On the one hand, Andalusian exports shot up at the end of 2022 with a near 25 per cent increase – particularly to America and to Asia – partly driven by its powerhouse olive oil industry, but also by its surprise strength in other sectors such as aeronautics. Having said that, these numbers would look better if a great number of people were benefitting from them. Instead, unemployment remains stubbornly high at 19 per cent, though it is falling.
As a Californian, the landscape looked remarkably familiar, as if I had stepped through a portal to a new version of my home across the ocean.
We were taken to the Executive Suite, and shown a view which I'll never forget: it looked out directly over the ocean, with a private terrace from which to enjoy the play of light at every time of day. Each evening, the sky would produce a gratis masterpiece of oxbloods and oranges for anybody who happened to be looking. Our rooms were beautifully laid out and succeeded entirely in soothing us from our flight: fresh fruit, confections, and hand-cut flowers awaited us in the tastefully decorated living room, and the king-sized bed provided a stellar night's sleep. The high ceilings found in the living room and bedroom also extended to the marble finished bathroom, which had two sinks, a spacious shower, and an even more spacious bathtub.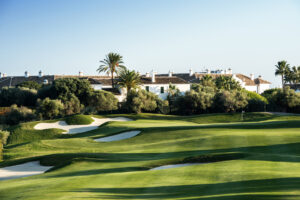 We began with a quiet drink at the Blue Bar. The décor inside the bar is classic and welcoming, though during our stay the unblemished weather would send us more often out onto the stillness of the patio with its view of the vast well-manicured lawn of the estate. Tapas is always available: beef carpaccio, complementary dried yucca and plantains, and of course the world-famous Iberian ham.
The next morning, we wandered the estate, deepening our acquaintance with perfection. Though Finca Cortesin is of recent construction, the attention paid to traditional Andalusian architecture and décor gives it the sense of prestige which often comes with age. The estate forms two massive open-air courtyards which are filled with tropical plants. A fountain provides a centre to the impressive display of foliage, which towers above you, cushioning you from any outside imperfections which might have been wanting to come in. By being here, you come to realise the outside world is a sort of scandal, inferior to the beauty and glory of Finca Cortesin. I became particularly acquainted with a Moroccan-themed lounge, which features traditional tile patterns, cushions, lamps, and cast brass tables.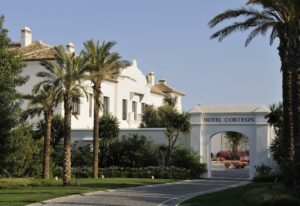 Of course, paradise does have a few demands – like, for instance, needing to walk around it. It's a hard life. Having surveyed the lawn, we moved with a sort of regality bestowed by the place itself to the pool, noting approvingly that it has a good variety of depths to suit your swimming style. Once these details are in your life you start to get used to them. Similarly, the poolside bar offers cocktails as well as food, with a variety of fresh fish kept on ice for you to choose from.
Due to the desirability of coming here, tourism is big business in Spain, and especially here in the south, meaning there are a lot of careers to choose from. Had you thought of perhaps manning the spa facilities in paradise? Or might you wish to deliver the Thai massage I had on my second day? There, the knots of life outrageously perpetrated on me beyond the kindly walls of Finca Cortesin, were angrily bashed and kneaded, embedding me further in this place, making me more than ever a citizen of Eden.
There are also a huge number of roles in food. Throughout our stay, this was impeccable. The a la carte breakfast at El Jardin de Lutz consisted of traditional Spanish fare with a modern twist. Alongside the tapas were croaker filets, carpaccio, foie gras, and numerous pastries. In the evening, we dined at Finca Cortesin's signature restaurant Rei, which offers an ingenious blend of Japanese and Mediterranean culinary traditions.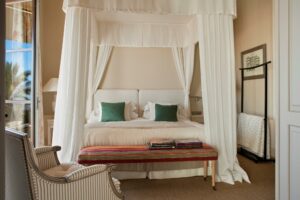 But this is also a mecca of golf. The course, blessed with Cabell B. Robinson's course design and Gerald Huggan's attractive landscaping, is one of the finest in the world and has played host to both the Volvo World Matchplay and will host the Solheim Cup in September this year. The clubhouse has a pro shop and a restaurant which provides a more laid-back dining and drinking experience, consistent with what one would expect from a world-class "19th hole".
It is impossible to leave the estate feeling anything but relaxed, rejuvenated, and satisfied. At Finito World, we're all about working hard and achieving seemingly impossible goals. Places like Finca Cortesin remind us what we're working towards.