Christopher Jackson
Milan is a famous city, but it's also in a catchment area where we find cities at their most beautiful and competitive: Italy. Within a relatively short distance, your other options include Rome, Bologna, Florence, and Venice, four of the greatest cities anywhere on earth. So that while it doesn't quite qualify as a hidden gem, it might be that it still needs its cheerleaders – people to remind you that it's more than just a place to watch football.
Fortunately, help is at hand in the shape of this article. Milan is the wealthiest city in Italy, and trails only Paris and Madrid when it comes to being the richest city in the EU. To list its strengths in industries is to seem to list all industries: from fashion and art, to finance, law, chemicals and art, it might be that if it's ever been your instinct to move to Italy to work abroad, that you're more likely to work in Milan than any of the other great cities.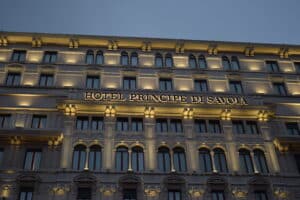 But Milan's a tourist location too – not just for its proximity to Lake Como and Cinque Terre, but also because of its own attractions. Venice is more beautiful; Florence has more art; Rome has more history; Bologna has better food – but Milan has something of each, and if you can look at what's here rather than dream on what's not, then you can find yourself enriched.
You'll be helped by this if you opt for the Principe di Savoia. The hotel, designed by the Milanese architect Cesare Tenca, opened in 1927, in a location near to the central station and Teatro alla Scala Theatre, one of the most famous opera houses in the world with long associations with everyone from Paganini, Verdi, Toscanini and Barenboim. This proximity is flagged by the hotel in many of the rooms which features pictures of scores by the great composers. It is a reminder that if you're staying in an excellent hotel, you ought to be inspired.
But you also ought to relax. On the top floor is one of the finest urban spas imaginable – a gym and pool with spa, steam room, jacuzzi, and so forth. That spa neighbours the famous presidential suite where Queen Elizabeth II and the Duke of Edinburgh have stayed, as well as people somewhat less admired than they perhaps once were: Woody Allen and Vladimir Putin.
The feel throughout is of a modern city, where you'll find the latest fashion and probably do well to look as presentable as possible. But it's not quite so simple as that on inspection. The Duomo itself is deservedly famous, a building of almost unfathomable detail even when standing a hundred yards away from it. It is one of those works whose greatness is in its busyness. It was Voltaire who said that great works of art require quiet patches. Milan Cathedral from the outside at least appears to be a refutation of that: it is a thing so teeming that you wonder why it doesn't seem too much. If you look closely at the sculptures along the east and west walls, you'll find that the rhythms of the figures is subtly done so as to allow for cohesion – a miraculous given how many of them there are.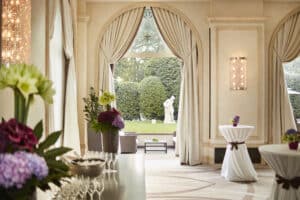 Inside, things are different – the doctrine of detail is traded in for a echoic vastness where the forests of pillars give way to sculptures.
If you want to know about the origins of the city, you can discover much in the crypt at the Duomo, where you see excavations which tell of the early baptistery founded by Ambrose, and which gives you a sense of just how old everything is deep down while everybody rushes around above you thinking of football, cars and fashion.
Milan Cathedral also the option to go up and walk on the roof. Gardiner once said of Bach that his music is tragically good, insofar as they were better than they strictly needed to be for a regional capellmeister. Milan cathedral up here is the same: in the days before the invention of the lift, very few can have had the opportunity to come up into the skies and see these superb sculptures, so detailed and complex. They were done for their own sake: one of the best examples I can think of the importance of a true work ethic: to do things well because that is how they should be done regardless of reward.
Of course, Milan has had its pull, and the names have kept coming here. In the Castello Sforzeca you can see a room which Leonardo da Vinci was working on; The Last Supper is also on view in an underwhelming refectory on the other side of town. It's a reminder of that other person who upended things here: Napoleon Bonaparte. It's Bonaparte who we have to thank for the poor state of the Last Supper, since the place was requisitioned as a stable.
The Castle feels as large as the Louvre, and just as labyrinthine, involving a vast traipse around armouries and collections of porcelain which it would take a lifetime to assimilate. Here also is Michelangelo's famous – and marvellous – La Rondinaia, one of those unfinished works of his where you can see the figure miraculously emerging from the marble.
Getting about Milan is a straightforward matter: in truth there's enough here to do to keep you busy for a week, but the city is large and so the metro demands to be mastered: a straightforward task as it turns out, tapping one's card exactly as if this were Piccadilly.
Beyond Milan, your easiest train journey is Bologna – that red-bricked foodie haven, which sometimes loses out to Florence, but which is in many respects its equal. It's undeniable that some magic happens on the train from Milan down to Bologna: a sort of Tuscanisation of the landscape, where the light becomes warmer, and the gorgeous tracery of blue hills begins to weave its way about the sky.
The train itself is very fast – beginning in Turin, it aims to get all the way to Naples in six hours, stopping at Florence, Rome and other places. Sometimes, remembering winter in the United Kingdom one envies one's fellow travellers, whose lives can seem to have a superior flavour by virtue of carrying them out in a superior location.
But it's worth all the life envy to get to Bologna. The beautiful frescoes by Giovanni di Modena in the Bolognini Chapel in  San Petronio: an Inferno which would have terrified Dante, and a beautiful series of six pictures of The Journey of the Magi. Bologna has a magic about it; an iteration of Italy which I'll not forget.
But there is another side to Italy – it can be overwhelming. The beauties are so many, and so many are in the past that it can be sometimes you long for some straightforward escapism from the noteworthy and the sublime.
This is where the Principe di Savoia comes into its own: I'll not forget a morning I spent, attempting to teach my six-year-old son to swim in the pool on the roof. Sometimes, it's best not to go to Lake Como, but instead to attend a spa.