Sarah Cobden-Ramsay
It was during a visit to the Kariega Game Reserve in South Africa in 2016 that I encountered a remarkable rhino called Thandi. This was not just a wildlife sighting; for me it was a life-altering event.
Thandi was a living testament to survival. She had suffered a horrendous poaching attack, her face had been savagely disfigured to extract her horn. Despite the physical trauma, her indomitable spirit shone through. Not only did she survive this gruesome assault, Thandi has become a symbol of resilience, mothering five calves – Thembi, Colin, Mthetho, Siya and Zolani. The horribly scarred, yet serene Thandi, grazing quietly with her first, 18 month year old calf, Thembi, was a turning point for me. I had to contribute, even if in some small way, to help fight this dark canvas of brutal poaching and support the incredible work so many do in rhino conservation.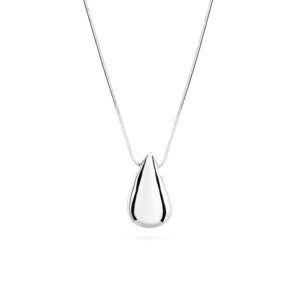 I had several years of experience as a jeweller, a skill honed under the tutelage of Jinks McGrath in her Sussex workshop. With Thandi as my inspiration and my passion for jewellery, I embarked on the journey of creating 'Rhino Tears', firstly designing a unique piece of jewellery Thandi's honour and hopefully a way in raising awareness and those all-important anti-poaching funds.
Each piece is designed as a delicate solid gold, or silver tear, and carries an engraved hallmark on the back – a triangle with a 'T', in homage to Thandi. For me, for every sale, it becomes more than just a piece of jewellery; it becomes a tangible symbol of strength, survival, and hope.
Happily, my charity Rhino Tears, has gone from strength to strength, the product has evolved to include earrings, cuffs and bracelets and particular commissions with diamond inlay in both silver and gold, pendants and earring across the range.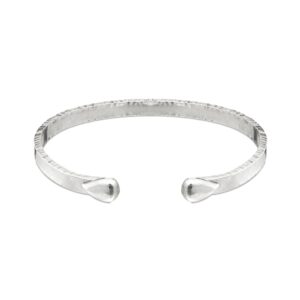 This has resulted over the years, in considerable donations to a few carefully chosen charities. Importantly for me, these game reserves in South Africa and Kenya are passionate about the conservation of rhinos in their natural habitat, as well as raising awareness and enabling local communities in supporting their heritage for the future.
The monies raised have gone to help in several areas, primarily anti-poaching units, the purchasing and training of tracking dogs, tracking collars, cameras, the sad but essential de-horning of rhinos and the successful rewilding of orphans. Rhino Tears has also been able to proudly fund eight local interns through a year's training in wildlife conservation and protection. They are now full- fledged rangers at the Kariega Game Reserve. Although most of my sales are done online, due to popular demand, I have been thrilled to provide Rhino Tears' jewellery to several outlets, including the Curio Shop at Kariega, Ant's Nest in the Waterberg and Auckland Zoo.
My journey from the plains of Kariega Game Reserve and a jewellery workshop in Sussex, I hope will inspire, and show that we can all find a small part to play in preserving our planet's rich biodiversity and ensure the rhinos may roam freely and safely on the plains of Africa.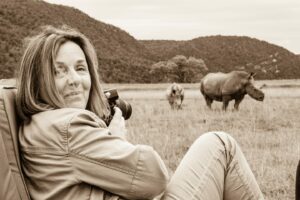 Go to rhinotears.org