Many people dream of working at a Fortune 500 company, but what is it actually like? That's what the careers board Lensa has set out to find, with analysis of working conditions, salary, and how CEOs' pay measures up to that of their employees.
By factoring in median salary, CEO to employee pay ratio, employee rankings, and remote work opportunities, Lensa found the best Fortune 500 companies to work for. Hewlett-Packard ranks number one, mostly due to it's $92,900 (£70,604) median salary and 4.2 star Glassdoor employee rating. HP has the smallest wage gap between its CEO and employees, though CEO Enrique Lores still makes about 134 times that of an average HP employee.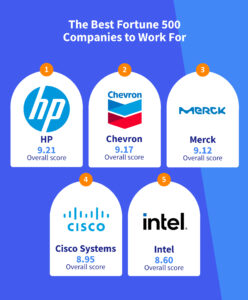 California's Chevron and Germany's Merck also scored highly, taking the number two and three spots. Chevron offers remote opportunities, as well as an average employee wage of $107,000 (£81,314). Cisco Systems, Intel, Goldman Sachs Group, Exelon, and American Express were also top contenders. The science and technology company Merck had a very high employee rating (4.2 stars) and offers a competitive average salary of $103,000 (£78,252).
Exxon Mobil had the poorest employee reviews, with only 3.4 stars. HCA Healthcare and Wells Fargo also only scored 3.5 and 3.6 stars, respectively, meaning that these three companies hold the lowest employee scores on Glassdoor.
The often-massive pay discrepancy between CEOs and employees is brought up frequently in discussions about working conditions, equality, and fairness in the workplace. By comparing median employee pay to CEO pay, Lensa found out which companies have the largest gap. General Electric came in at number one, with CEO H. Lawrence Culp Jr earning 841 times the median employee salary of $86,400 (£65,949). Walt Disney and Comcast also have high CEO to employee pay ratios, with CEO Bob Chapek making 642 times what the average employee makes, and CEO Brian L. Roberts making 583 times median employee pay.
Despite the increasing move towards flexible working with remote options, there are still some Fortune 500 companies which do not offer remote working. Most of the companies which do not accommodate remote working are energy companies; Exxon Mobil, Phillips 66, and Valero Energy. However, both Nike and Bank of America also do not allow their employees to work from home.
A link to the full study can be found here: Lensa.com/insights/the-fortune-500-workplace/#h-1-hp