Patrick Crowder
We've all done it. Missent emails, unfortunate autocorrects, and missed messages seem to be a natural by-product of the way that we communicate at work. These small gaffes are usually harmless, but some can cost employees their jobs and the respect of their colleagues, as well as costing businesses large sums of money.
To see the common ways we miscommunicate at work, the telecommunications company TollFree Forwarding surveyed 1,000 employees about their workplace blunders.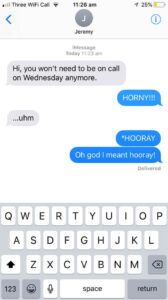 A slight autocorrect error.
Office miscommunications are often not as humorous as the example above – and some can be costly. A study from the Independent Director Council found that large companies (over 100,000 employees) lose about $62m (£45,640,990) per year because of miscommunications.
Stephen Hart, CEO and founder of the B2B credit/debit fee comparison toll Cardswitcher explains how simple miscommunications can cause chain reactions leading to serious issues.
"Say your customer service team isn't passing on customer feedback. Well, that's going to cause problems for your sales, who don't know how to tweak their approach. And your business development team, who won't know how to improve the business. And your marketing team, who won't understand your customer base," Hart says, "Bad communication has a tendency to cause compound issues and spread to other business areas."
When it comes to remote communication, mistakes are common. 56% of employees surveyed said that they had sent a work-related email or text to the wrong person at some point in their careers. 70% of men surveyed admitted to miscommunicating at work, which is 21% more miscommunication than the women surveyed reported.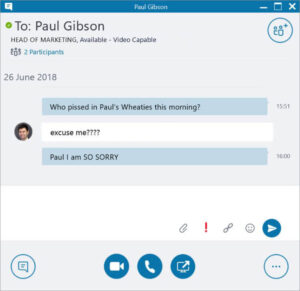 These sorts of miscommunications can have social consequences, and may even lead to termination.
While many managers will laugh off truly accidental miscommunications, if the message sent is offensive or sexual in nature then employers are usually within their rights to fire the employee who sent it. Tom Simeone, who is an attorney and adjunct law professor, explains.
"Many employment contracts state that an employee can only be fired for "good cause." Some contracts then go on to define a good cause, but others do not. So, insulting a manager, for example, could be grounds for termination, if the employer desired."
Miscommunications are not always accidental, nor do they always happen through remote communication. Sometimes, an office dynamic can lead to employees being afraid to speak up or voice concerns. Tracey Julien, who is VP of marketing at the retirement planning company Guided Choice explains how this situation occurs.
"Many employees feel intimidated and even too embarrassed to ask their manager a question to clarify what is being asked of them. This is probably one of the easiest issues to combat and yet it still occurs time and again," Julien says.
Steven Hart suggests a way to combat miscommunication called "the daily stand-up". These short meetings ask employees to answer three questions; What did you do yesterday? What did you do today? And what impediments or problems do you have?
Hart explains how this practice can boost productivity.
"The communication and productivity benefits are immense," Hart says, "If someone is planning work that will disrupt someone else's, you learn about it at the start of the day and can mould your day around it. Another huge benefit is that it highlights problems, issues, and impediments so someone can address them before they start causing problems."
Simple, mostly harmless miscommunications happen to us all, but it is important to address the roots of more serious miscommunication before it reaches dangerous levels. If businesses want to increase productivity and avoid social problems among employees, miscommunication is a top item to address.
https://tollfreeforwarding.com