'Tis the season of goodwill and sumptuous gift goody bags. In mine, following a Winter Wonders Christmas Party at Taj Hotels, there was an invitation to afternoon tea. This was to be no ordinary tea but a festive production of Baubles and Ballerinas!
We arrived and began to take off our coats, until we were ushered to our seats which were specially reserved in the centre of the grand conservatory. My guest elected to keep on her coat as it was still cold, and the sleet and snow outside hadn't fully melted. It was a pretty scene outside with the twinkling lights contrasting with the daylight fast turning to dusk. There were a few diners occupying other tables after late lunches. Our thoughts turned to tea. The place setting was beautifully embroidered and the napkin holder the size of a giant ring. After a pause, the waiter brought us the menu and offered us a glass a water. A few minutes later, we were invited to select our tea leaves, English breakfast and Earl Grey were the order of the day. Two pots arrived. I requested milk. We noticed that there were no teaspoons and elected not to make a fuss.
It reminded me of Ted Gladdish, a former client and old friend of mine who used to collect teaspoons wherever he went. I didn't know about his habit, until after he died. I visited his home to pay my respects to his fiancé only to find picture frames with teaspoons all over his walls. I recognised some from my own office and always wondered why we were running short. My guest surreptitiously stirred with her fork. No-one but me noticed.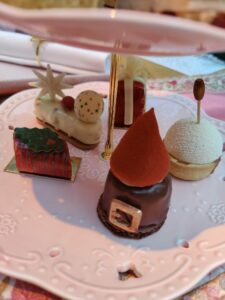 There was a selection of themed teas, including The Indian Jamsine, Festive Vegetarian and Festive Afternoon Tea. We decided not to be adventurous. The two tea stands arrived consecutively. I had gestured to my guest that we should only begin devouring once each item could be tasted in unison.
The presentation was stunning, favourites included festive egg mayonnaise and mustard cress pinwheel; rosemary roasted beef roulade turnover; honey glazed turkey and cranberry sandwich; thyme roasted chicken mousse, open face pie and smoked salmon, cream cheese and caviar open sandwich.
Suddenly there was a crescendo in the music which had morphed from Asian beat to The Nutcracker and two ballet dancers appeared En Pointe in pastel shades of blue. A few pirouettes later, we applauded. They were working while we were munching spiced mixed fruit scones with cranberry jam and clotted cream.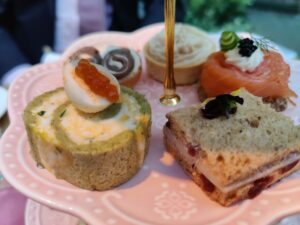 After the entertainment, it seemed like a good moment to have a mini break before turning to the beautifully decorated and delicate patisseries, each one more tempting than the other. Santa's parcel was a chocolate mousse, cherry with chocolate sponge. The pistachio roulade was made with Armagnac and milk chocolate crémeux. Gingerbread cheesecake hastily followed before the Christmas ornament, which was a strawberry bakewell tart and eggnog mousse. The final cake was a beautiful dark hot chocolate shaped, rocky road brownie with marshmallows and candies.
Our waiter returned to enquire whether we would like a repeat cake stand. I politely declined and then remarked: you cannot be serious. Apparently other guests before us had requested further supplies.
So there you have it, Tajness. Taj is legendary. They go out of their way to make you feel welcome. Everybody smiles. Service is important. They want you to remember the Taj experience. We really did.  On the way out, I had forgotten about the teaspoons.