Patrick Crowder
If you are looking for a world-class Japanese culinary experience in the heart of London, it is in your best interest to take a stroll down Walton Street, nestled between Chelsea and Knightsbridge. Since 2017, Dinings SW3 has produced an authentic Izakaya-style experience under the leadership of head chef Masaki Sugisaki.
An Izakaya is, in a way, the Japanese take on the pub; an informal restaurant and bar with good food where many people go for after-work drinks. While Dinings would not be considered informal by most, it is certainly a place where you can go with no fear or expectation of pretension. The main restaurant formerly served as an artist's studio, and remnants of the past can be seen in the form of neon lips on the wall and an intricate historical fireplace dating back to the 1500s.
The restaurant also features an even more private section upstairs called the Kurabu. It is carefully furnished with comfortable and elegantly upholstered seats and perfectly set up to accommodate your needs, whether that be a company event or an intimate outing. It is known that celebrities choose Dinings not only for the exceptional quality of food and service, but also because they are unlikely to be recognised and bothered in such a hidden away space.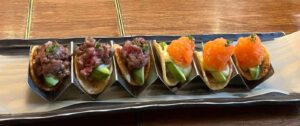 The food and drink at Dinings are of the highest quality, and the nature of the dishes shows that they are not afraid to place their locally sourced ingredients front and centre. Fitting their style of mixing traditional Japanese cuisine with European dishes, our first dish was truffle-topped sea bass carpaccio. The delicate fish mixed with the earthy truffle created a wonderful combination, especially when paired with Dinings' own 78 Kin Daiginjo sake. For those who are more accustomed to European wines than sake, Dining's offering is a great place to start due to the sake's mild yet familiarly floral taste.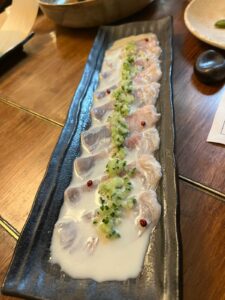 Even something as simple as a tuna roll is done to the nines at Dinings. This dish is a tuna tour de force, incorporating all cuts of the fish including the belly of the tuna highly sought after for its buttery, mild flavour. For those who do not share my love of fish, Dinings offers a number of vegetarian options including miso aubergine. This baked aubergine, marinated in and then topped with both light and dark miso sauce, quickly won the favour of our table and was a true highlight of the meal. If wagyu beef is more your speed, Dinings has you covered with a truly unique take on slider burgers. No matter your palate, Dinings SW3 will have an option for you of the highest quality. This place is something special, and once you've experienced the exemplary cuisine and service of Dinings SW3 you'll find it extremely difficult to stay away for long.